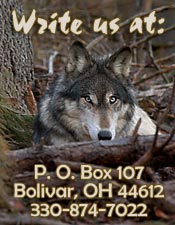 Toll Free
1-866-US4-WOLF
1-866-874-9653


Vision Statement
WOLF TIMBERS, a Tuscarawas County based nonprofit environmental organization, is dedicated to the establishment and operation of authorized natural wilderness enclosures for the Timber Wolf in Northeast Ohio that are healthy, humane, safe, secure and accessible to students, researchers and the general public. WOLF TIMBERS is devoted to securing a future wherein human kind everywhere will promote and protect the welfare of the Timber Wolf in its natural habitat.
Purpose of Wolf Timbers
This corporation is organized exclusively for one or more of the purposes as specified in Section 501 (c) (3) of the Internal Revenue Code, including, for such purposes, the making of distributions to organizations that qualify as exempt organizations under section 501 (c) (3) of the Internal Revenue Code, or corresponding section of any future federal tax code.

WOLF TIMBERS is specifically organized to conduct research and educational programs that are in the public interest including, but not limited to:
1. Education of the public to dispel misconceptions about wolves through the establishment and operation of captive wolf pack enclosure.
2. Facilitate public viewing of the timber wolf in a captive environment while attending lectures, wolf howls, and other educational programs.
3. Provide college professors, college students, high school teachers, and high school students the opportunity to study wolves and to conduct research on wolf behavior and associated habitat and prey species.
WOLF TIMBERS' purpose and mission is to educate the public about the true nature of wolves so that we might gain an appreciation of the wolf and the role it plays in the ecosystem. WOLF TIMBERS was founded as a not-for-profit organization on August 26, 1996.

It is our goal at WOLF TIMBERS to enlighten and educate the public on the true nature of wolves. We have engaged in this mission because wolves face extinction and consequently have been placed on the endangered species list. To prevent the possible extinction of wolves, re-education of the public about the true nature of wolves must be provided.

WOLF TIMBERS' role in preventing the extinction of the wolf is to provide educational programs. We offer public viewing of the wolves living at WOLF TIMBERS while providing information that is factual and non-biased. We also will bring our educational programs to your school, church, scout group or other interested organization. For the safety of the wolves, we do not bring them to you.

If you are interested in an educational program, please contact Martin Huth, Director. Schools and other large groups need to schedule two weeks in advance.

We invite you to observe these magnificent, intelligent and resourceful animals first hand - so that you are better able to understand the true nature of the wolf.

If you have any problems or comments about this site, please write to
wolftimbers@yahoo.com
Web page © 1999 - 2009 Wolf Timbers