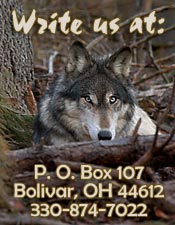 Toll Free
1-866-US4-WOLF
1-866-874-9653



Visit, Enjoy, Learn and Relax

Please visit Wolf Timbers during our open days with no appointment necessary. For other times, by APPOINTMENT ONLY, private tours can be arranged. Please call, write, or e-mail us with the dates you would like to attend. Reservations need to be made two weeks in advance. Please provide alternate dates in case we are unable to accommodate you. A deposit is required to hold your reservation. The deposit must be made in advance and by check. The deposit is calculated by adding the amount of the admission fees for your group, then dividing by two. There are no refunds. Please see the "New Special Group/student Rate" information below.

New Special Group/Student Rate
Wolf Timbers has set the following in regards to educational groups up to and including the 12th grade - all students, chaperones and teachers will be $2.00. Bus drivers will be admitted free.
Private tours will be considered groups wanting programs on NON-open days. A group of up to 10 people will be $50.00 with each additional person being $5.00 per person. All groups must schedule at least 2 weeks in advance and will receive a confirmation letter in the mail to confirm their date and time of program.

ADMISSION PRICES ARE AS FOLLOWS:
Adults (18 and over): $5.00
Yearlings (12 to 17): $4.00
Older pups (6 to 11): $1.00
Little Pups (5 and under): Free admission

All minors (under 18) must be accompanied by an adult. There are no refreshments available. The little town of Bolivar, located three miles away, offers many fine restaurants and lodging. You may contact the chamber of commerce at (330) 343-4474 to obtain lodging information.
When planning a visit to Wolf Timbers, you might also want to check out the local attractions in Bolivar and Zoar. The historic town of Zoar is located nearby as well as Ohio's one revolutionary fort - Fort Laurens. Please call 330-874-4336 for information on Zoar and 330-874-2939 for information on Fort Laurens.
Please also help us save the town of Zoar!! Please visit there and ask what you can do to help save this historical settlement.

CONTACTING WOLF TIMBERS
You may contact Wolf Timbers by telephone, e-mail or mail. Please understand that volunteers operate Wolf Timbers and that we have full time jobs elsewhere. We will try to answer you as soon as possible but please be patient.
To contact Wolf Timbers via mail:
Wolf Timbers
PO Box 107
Bolivar, Ohio
44612
To contact Wolf Timbers via telephone: (330) 874-7022
or
TOLL FREE at: 1-866-874-9653 (1-866-US4-WOLF)
To contact Wolf Timbers via e-mail: wolftimbers@yahoo.com
WHERE ARE WE?
Wolf Timbers is located in scenic Bolivar, Ohio. Bolivar is best reached via Exit 93 on I-77.
DIRECTIONS
Take I-77 to Bolivar (exit 93). Go west on SR 212 a short distance to 3-way stop. Turn left onto County Road 102 (Ft. Laurens Rd). Pass Fort Laurens, on your left, and a cemetery on the right. Go over RR tracks. Turn left onto County RD 111 (Towpath Rd). This road (CR. 111) goes up over I-77. After you cross the Interstate, immediatly turn right onto French Hill RD. From that point to our parking area is 1.4 miles. You should see a Wolf Timbers sign. Look for other signs pointing the way to the nature walk. Please do not walk down the lane - follow all posted signs marking the direction of the nature walk. Please take the time to enjoy the nature walk.
Wolf Timbers is handicapped accessible.

Please notify us, if possible, prior to your visit so that we may make your educational experience more rewarding.
At this time, Wolf Timbers has no restroom facilities.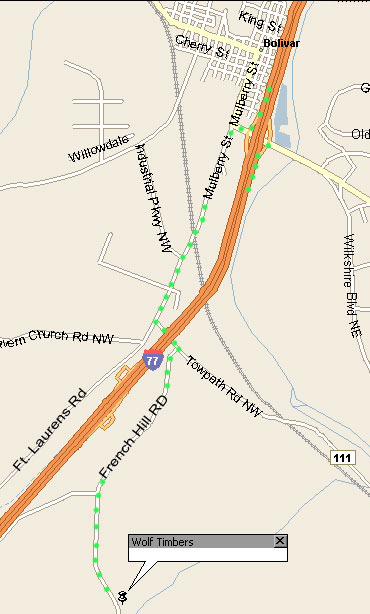 Enjoy a local B&B

Located in Zoar , OH
Phone: (216) 927-3700
Address: 160 3rd Street
P.O. Box 509
Zoar, Ohio 44697
NEED A PLACE TO STAY?

Located in Bolivar , OH
Phone: (330) 874-3435
Address: 11155 SR 212 N.E.
NEED A PLACE TO STAY?

Wild Horses B&B
Private Cabins

Located in Bolivar , OH
Phone: (330) 874-3968
Address: 11355 Strasburg Bolivar Rd

If you have any problems or comments about this site, please write to
wolftimbers@yahoo.com
Web page © 2012 Wolf Timbers