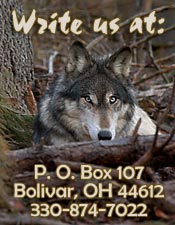 Toll Free
1-866-US4-WOLF
1-866-874-9653
1-330-323-0815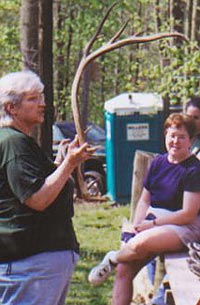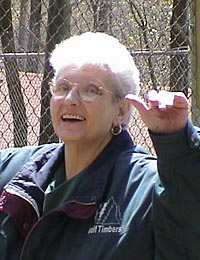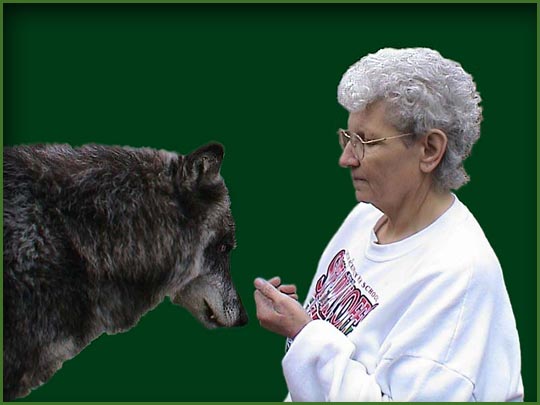 When Wolf Timbers was first started, we had the bare minimum of everything. The bleachers were nothing but wood planks set upon pieces of logs, the nature trail was non-existent. We also only had a few volunteers. Some of these volunteers are still with us and have been with us for what seems like forever. They are what we have deemed the "originals".
On January 31, one of our "originals" left us for her higher purpose. Linda Bowers passing was a devastating shock to all of us. She had been out to Wolf Timbers just a few weeks before for the annual board meeting. Linda was also a board member and secretary of Wolf Timbers. We have been at a loss for words since the news of her passing was relayed to us. Linda had been with us almost since the inception of Wolf Timbers. There are many things here that have her signature on them. You may have read an article written by her or listened to one of her lively presentations.

Linda wasn't just a volun­teer; she was a part of the Wolf Timbers family. She would often include her own family in the mix by bringing along her two grandsons', Jonathon and Tobias, as well as husband Robert. They would all be put to work helping out with whatever it was Linda was involved in that day. It was always a family affair.

Many times Linda would give her free time presenting off site programs to school groups or other organiza­tions when no one else was available. She loved talking to folks about wolves and setting them straight about the truth. Her mind was always thinking up new ideas or ways to present a program or advertise an event.
Over the past few years, Linda's health had kept her down but not out. Even after having some major surgeries she still tried her best to keep coming to Wolf Timbers. She wasn't able to go in with the wolves any longer, but that didn't matter to her. Linda wanted to serve in any way she could, and she did. Projects that involved flowers and plants were some of her favorites. At the board meeting in January, Linda and some of the other members talked about creating some new flowerbeds around the Wolf Timbers grounds. Her body may have been slowing down but her mind was always soaring.

A lasting, favorite memory of mine will be the day that Linda, Ted and Marty were building the second set of bleachers. The guys were winging it, put a nail here, measure and cut there. Linda kept laughing at them and telling them they were doing it all wrong. There was much discussion about who was right. It was an afternoon of the "boys vs. girls" bleacher Olympics. It is a wonderful memory.

Linda has left behind a life full of special moments for us to keep close and cherish. She taught all of us about resilience, pride, perseverance and love. The volunteers and the wolves at Wolf Timbers were blessed to have had the chance to experience her grace in our lives.
Our thoughts, prayers and love go out to her family.



The Wolf Timbers volunteers are a small, close-knit group. When we lose one of our own, it is a loss that we all share. Linda was a friend and mentor. She was the matriarch of the clan. The volunteers wanted to share their memories of Linda as a tribute to her and what she meant to them.

"I really enjoyed volunteering with Linda. She was so dedicated to helping Wolf Timbers and spent many hours giving talks to all who visited. Even when she was in pain and had to use her walker to get up the hill, it didn't stop her from giving very knowledgeable and informative talks about the wolves to our visitors. She also did a lot to help in the office and worked behind the scenes. She had many good ideas, and when we took a business training course at KSU, I remember how she would pass out flyers and show pictures of the wolves to everyone she met, even strangers. Linda was a kind and giving person both at Wolf Timbers and in her personal life. I know she did so much to help her family and grandchildren. Linda was indeed a very hard worker and she will be greatly missed by all of us who knew her." Mallory Kolick (former Wolf Timbers volunteer)

"When I first started volunteering at Wolf Timbers, one of the first volunteers I met was Linda Bowers. She seemed to be very serious in her demeanor, and I came to learn that Linda took her volunteer work very seriously. But, I also learned that she had a great sense of humor when the "work" was done. I came to respect her immensely, especially her vast amount of knowledge about wolves. It was wonderful to watch her in action when she spoke to groups, especially children. She touched a lot of lives, educating many about wolves. I think she would have made a great teacher in a school system. Wolf Timbers was very lucky to have her and I was very lucky to have known and learned from her." Judy Kovalan (former Wolf Timbers volunteer)

"I only had a short period of time to be acquainted with Linda. During this small span of time, she impressed me as being a very caring and loving person. She cared so much for the people around her. She seemed as though she would give up anything to help anyone. I know from talking to her that educating people about wolves and Wolf Timbers was a main priority to her. I will miss her smiling face and the unselfish nature she displayed. I don't believe that anyone could leave a more lasting impression on me for the short period that I was able to know her." Bill Steinke

"Linda and I started volunteering on the same day, seven years ago. Both of us were excited to learn and enjoy our new experiences. Linda was full of enthusiasm and she never lost it, coming up with great ideas on how to improve Wolf Timbers and our program. She was a wonderful speaker to the visitors that came to see the wolves. Linda was especially great with entertaining, as well as educating, the school groups that came to call. She was not only knowledgeable about wolves, but about many, many other things. I think I learned something new every time we were together. Linda was very dedicated to Wolf Timbers and we knew we could count on her. She was our "go-to" girl when it came to keeping the office in order. My favorite thing about Linda was that she didn't let you get away with anything! Nobody could keep Marty in line like Linda. She will be sorely missed." Beth Tedrow

"We have lost another friend and outstanding volun­teer at Wolf Timbers. It did not take me very long to realize, with her passing in Jan. 2005, that Linda was a very special kind of human being. There was no doubt of her love for Wolf Timbers. She demonstrated this with her caring, ambition, generosity and hard work.
She was steadfast, like a rock, and so knowledgeable about the behavior of the wolf pack. Linda kept our visitors very interested and once they arrived at Wolf Timbers they remained for hours. She never stumbled or ran out of information about the wolves. I recall the many; many times she struggled to walk up to the enclosure when we had an open day or when the school students came to visit. I shall miss her very much. Her quick passing reminds me of the brief time we have here on earth. I envision Linda and Ted in the heavens looking down and cheering us on." Angie Huth

"First I want to say that Linda was my big sister. We laughed together and we complained together. She was there for me when my dad passed away. She was my teacher. I was thinking about the first time I met her and we became friends. Linda was that easy to get to know. But she would also let you know if you messed-up. I loved to listen to her stories. I will tell you about the big rat and the dog some day.
We all know Linda gave her time to Wolf Timbers, but some may not realize just how much. The first time I "wolf sat", Linda came down to Wolf Timbers to help me after getting Jonathon off to school. We were finishing up the things we had been working on and she asked me if I would care if she went home to get some sleep. She worked midnights, got off work, took her grandson to school and came to help me, with no sleep. That was how Linda was. When I heard Linda was gone, I was upset. A day or so later, I was thinking about her as I was driving my courier route. When you drive 300 plus miles, you have a lot of time to think. I was crying my eyes out (well, my eyes where getting a little blurrier). I wasn't really paying much attention to my driving, and as I dried my eyes I noticed a truck in front of me. It had big mud flaps with the word "Raven" on them. Raven was Linda's email name. The rest of the day on the radio (this is the truth) they kept playing songs about Heaven or God. The last song was "Tears in Heaven." So I said "ok, Linda, I know you're at peace where you are and I will stop crying." Linda believed in Heaven and God and I know that she is finally home. She will no longer have to suffer pain or go through any more surgeries. I am so glad she was part of my life. This will be my fifth anniversary at Wolf Timbers. I remember when Marty gave Linda a ballpoint pen and teased her that it was her 5-year gift. Linda in turn teased me about getting a pen for her 5 years. I told her not to worry; I would get my pen. There is a sweet sadness that my fifth year would be the year without her." Teresa Finnicum

"When asked to write something about Linda, I thought it would be easy, however, I kept putting it off and off and off. There are many volunteers that have came through Wolf Timbers, but few have anchored themselves so securely and so unselfishly than Linda. Linda permitted Wolf Timbers to grow in many different ways. Her skill and ability at taking any mundane job and completing it with skill and efficiency amazed and inspired me and others at Wolf Timbers. Linda was my "go to person" and was as close to a business manager as Wolf Timbers has ever had. I shall never, ever forget Linda arriving at Wolf Timbers a few days after her first knee surgery. Obviously in pain, as evident by the length of time it took her to exit her vehicle, she slowly got out of her car and swung her walker into place and said to me, "get your butt over here!" If any of you knew her, Linda commanded respect, not by demeaning people, but by how she treated people and told you like it was—not on what you wanted to hear. She then told me to help her into the house so we can "get some things done." We slowly walked over to the porch and as she used the logs on one side of the steps to assist her up, I held her hand and helped the other side of her up. This went on for many weeks and I realized then that here was one person that could make a difference and did. Linda was as close to being the heart and soul of Wolf Timbers as any. Linda treated all with respect and went out of her way to make others in her life feel more important than her own needs or wants. Her presence is ever-present at Wolf Timbers even though she is absent physically. I guess what makes a great person great is that even in their absence, their presence is felt and a sense of admiration and love envelopes you. I will always respect and admire Linda for what she has done for Wolf Timbers and my love for her will echo as the sound of wolves howling on a cold, January night echo along the shores of a frozen lake. Linda, I shall never forget you." Marty Huth

"Where do I start? Linda was such a great person. She could make you laugh when you needed it most and make you straighten up when you needed it most. Linda would give compli­ments and sincerely mean them, and she could deliver constructive criticism without hurting feelings. Linda just had a way about her. I will always remember one evening we were sharing life stories. She starting talking about an Italian barber she had worked for when she was a teenager. This barber had a daughter that also worked for him. Linda started telling me about how this father and daughter would get into yelling matches. Everything started to ring bells for me. I soon realized that she was talking about my grandfather and my mother. We had a good laugh! Linda had a wonderful memory. This trait served her well when she would deliver a presentation. She would also remember those little things about what people would say and the next time she would see you she would have an extra bit of information to share or a way that she could help out. Linda was always willing to help out. I really think that she lived everyday of her life helping others. She was selfless; a character trait that should truly be admired. Linda, you, and every­thing that comes with you, will truly be missed." Nicolette Popa

"There can never be enough words in any language to tell you what she meant to Wolf Timbers, the volunteers, and to me. Linda was my friend, my co-conspirator and my inspiration. This is the woman who knew me so well that she gave me "Pinky and the Brain" cartoon videos for my birthday one year. She is also the same woman who would show up from time to time with a package of toilet paper because she knew we would go through so much during open season. Linda noticed and lived for the little things in life. She kept everything simple, honest and true. I want to be just like her when I grow up. I miss you, Linda. Save me a seat." Michelle Huth
If you have any problems or comments about this site, please write to
wolftimbers@yahoo.com
Web page © 1999 - 2009 Wolf Timbers